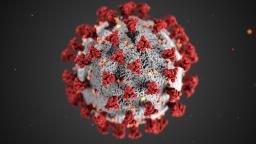 It's the latest hurdle in a string of setbacks for the summer Games, which were postponed in 2020 during the early days of the Covid-19 pandemic.
The Olympics, which are currently scheduled to run from July 23 to August 8, are looking increasingly untenable as Japan grapples with a new outbreak of the virus that is beginning to overwhelm hospitals. While cases surge, the country's vaccine rollout is moving forward at a glacial pace due to a shortage of medical professionals and a lack of syringes — only about 2% of Japanese citizens have gotten at least one shot of a vaccine.
One Japanese athlete, 73-year-old table tennis Paralympic legend
Kimie Bessho
, known as "The Butterfly Lady" for her signature hair clips, says she's been unable to get vaccinated and is risking her life to compete. "I don't want to die of Covid. If I die, I want to die in a competition after a winning smash," Bessho told CNN. "I won't die a boring death, but I will make a big smash. My friends say they'll decorate my coffin with many ping pong balls."
There's been mounting pressure to postpone the Games to save lives, with two major doctors' associations warning that Japan's healthcare system would not be able to cope with the medical needs of thousands of athletes, coaches and press on top of the existing surge in Covid-19 cases.
But Olympic officials still maintain the Games can be held safely and securely. "We feel confident that the current mitigation practices in place for athletes and staff … coupled with the testing before travel, on arrival in Japan, and during Games time, will allow for safe participation of Team USA athletes this summer," the US Olympic & Paralympic Committee, which oversees Team USA, said in a statement hours after the Centers for Disease Control and Prevention (CDC) discouraged even fully-vaccinated Americans from visiting Japan.
YOU ASKED. WE ANSWERED.
Q: What could happen if the Tokyo Olympics get canceled?
According to a Reuters report from January, insurers are facing a $2-3 billion loss if the Olympics are canceled, amounting to the largest ever claim in the global event cancellation market. And for organizers, the financial impact of canceling the Games, even with insurance payouts, could be considerable given that close to 75% of the IOC's total funding comes from broadcasting rights.
Arguably, it would be the athletes who stand to miss out most from a canceled Olympics. World Athletics president Seb Coe told CNN that 70% of those chasing Olympic participation are only going to have one chance to compete at what is likely to be the pinnacle of their sporting careers. To cancel the Games, Coe said, would be to "discard a generation of athletes who have spent over half their young lives in pursuit of this one moment."
WHAT'S IMPORTANT TODAY
In push to vaccinate young adults, Biden and Fauci turn to YouTube stars
WHO coronavirus investigators pinpoint overlooked Chinese data for further study
The source said the records are contained in a nearly 200-page annex posted alongside the WHO panel's March report that received little attention among global experts at the time. But the data may add weight to calls from China's critics for more transparency and to the WHO team's desire to return to the country for further studies.
No date has been set for the team's return to China, but the source said any future visit to the country — where the virus emerged in the city of Wuhan in late 2019 — may involve "smaller groups supporting specific studies first." A larger group, similar to the 17 international experts that visited in January, might then follow up, the source added.
Covid made the Philippines' hunger crisis worse. So why does hardly anyone want a vaccine?
The Philippines was one of Asia's poorest countries even before the pandemic. Toward the end of 2020, nearly a quarter of Filipinos were living in poverty, surviving on about $3 a day.
More than 3 million children in the Philippines have stunted growth, and 618,000 children are classed as "wasted" — defined by the WHO as low weight for height, which usually occurs due to lack of adequate food or prolonged illnesses. That's among the highest rates in the world — and the figures were recorded before the most recent lockdown that started in March.
ON OUR RADAR
TOP TIPS
What the new US mask guidance means for kids under 12
When the CDC issued its new mask guidance last week, it didn't include advice to vaccinated parents who have unvaccinated children, leaving many parents confused about what to do.
The new guidance says people who are fully vaccinated against Covid-19 may go without masks in most circumstances and don't have to keep their distance from others. But everyone who is not vaccinated should continue wearing a mask as usual — and that means everyone under the age of 12, the only group currently not eligible for any of the vaccines in use in the United States.
TODAY'S PODCAST
"Wow, my body brought me through a pandemic!" — Dr. Joy Cox