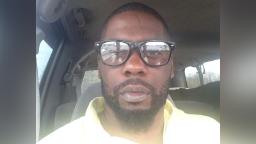 Chance Lynch, one of the Brown family attorneys, said he and the family were able to watch body and dash camera footage of Andrew Brown Jr.'s death last Tuesday, which they said proved police were unjustified in shooting him.
Brown was fatally shot April 21 when Pasquotank County deputies in Elizabeth City, North Carolina, were trying to execute a warrant.
Lynch said he saw Brown sitting in his vehicle when officers arrived and started yelling different things at Brown like "show your hands" or "get out."
"At all times his hands were visible, you could see he was not a threat," Lynch said. "It was so much yelling, we could barely understand what was happening."
A shot was fired, Lynch said, and Brown put his car in reverse several feet from where the officers were standing.
"At no point did we see any police officers behind his vehicle," Lynch said. "At no point did we see Mr. Brown make contact with law enforcement."
District Attorney Andrew Womble, who is responsible for the district that includes Pasquotank County, said officers fired when the car Brown was driving moved toward them and the car made contact with officers at least two times before shots were fired.
Lynch said he did see officers firing their weapons at Brown's car. He found it difficult to count how many shots were fired.
"When they approached the vehicle, we counted approximately six if not more bullet holes in the passenger side of his car," Lynch said. "Windows were shattered. We were able to see one shot in the front windshield and approximately six (bullet holes) in the back windshield."
Lynch said at some point there was a "final shot" at which point Brown lost control of his vehicle and crashed into a tree across the street. Officers pulled Brown's body out of the car and laid him face first on the ground. No weapons were found in Brown's car after police searched it.
"It was absolutely, unequivocally unjustified," Lynch said. "Our legal team is more committed now to pursue justice … because what we saw today was unconstitutional and it was unjustifiable."
The district attorney will hold a news conference shortly "to discuss the results" of the North Carolina State Bureau of Investigation's probe into Brown's fatal shooting.