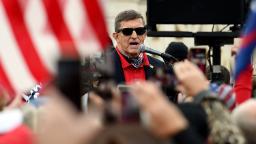 For months, QAnon and Trump-supporting online forums have celebrated the deadly military coup in Myanmar and suggested the same should happen in the United States so Trump could be reinstated as President.
Flynn made the comments at an event in Dallas on Sunday that was attended by prominent peddlers of the QAnon conspiracy theory and the Big Lie.
"I want to know why what happened in Minamar (sic)can't happen here?" a member of the audience, who identified himself as a Marine, asked Flynn.
"No reason, I mean, it should happen here. No reason. That's right," Flynn responded.
A message posted to a Parler account used by Flynn on Monday claimed Flynn's words had been twisted and that he was not calling for a coup.
Lawyer Sidney Powell, who has represented Flynn in the past, said Monday that he had in no way encouraged "any act of violence or any military insurrection." She claimed the media had "grossly distorted" Flynn's comments. She did not explain why Flynn had answered the question the way he did.
Speaking at the same event in Dallas, Flynn earlier in the weekend falsely claimed, "Trump won. He won the popular vote, and he won the Electoral College vote."
Rep. Elaine Luria, a Virginia Democrat who vice-chairs the House Armed Services Committee, said later Monday that Flynn's comments were "dangerous" and "incredibly concerning," adding that she thinks official action against him should be considered.
"Flynn's remarks border on sedition. There's certainly conduct unbecoming an officer. Those are both things that can be tried under the Uniform Code of Military Justice and I think that as a retiree of the military, it should certainly be a path that we consider to have consequences for these types of words," Luria, a retired Navy commander, told CNN's Anderson Cooper on "AC360."
Powell, who has frequently pushed the falsehood that Trump was reelected, also appeared at the event and said Trump should be "simply reinstated" and that a "new inauguration day is set."
Talk among Trump supporters of a coup not only happens online; CNN spoke to followers of the former President in Ventura, California, in February who said they wanted to see a Myanmar-style coup happen here.
This story has been updated with further developments Monday.