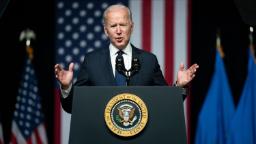 "I hear all the folks on TV saying, why didn't Biden get this done,"
said Biden
. "Well, because Biden only has a majority of, effectively, four votes in the House and a tie in the Senate with two members of the Senate who vote more with my Republican friends."
(Sidebar: Terrific use of the third person there by Biden. Chris Cillizza approves.)
Now, Biden didn't name any names. But, it's pretty clear that the two senators he is referring to are Sen. Joe Manchin of West Virginia and Kyrsten Sinema of Arizona.
And, yes, there's no question that Manchin and Sinema are the two most likely Democrats to side with Republicans when it comes to critical votes. Both senators are, for example, opposed to abolishing the legislative filibuster.
But is Biden right? Do Manchin and Sinema, as he said, "vote more with my Republican friends?"
Not really — although it's worth noting that there's no perfect measure.
The reality of the modern Congress — and this is radically different from even 20 years ago — is that the ideological middle barely exists. Yes, Manchin, Sinema and Collins are the most centrist of their respective parties, but they are nowhere near the likes of long-gone names like John Chafee of Rhode Island, John Breaux of Louisiana and Zell Miller of Georgia, who were regularly siding with the opposition party on key votes.
My (educated) guess is that Biden was simply using a bit of creative license on Manchin and Sinema on Tuesday. Talk of getting rid of the legislative filibuster has been very much in the news of late — with Manchin and Sinema making clear they still oppose doing so — and that's likely what Biden had on his mind in Tulsa.
But the reality differs from Biden's version of events: Manchin and Sinema may not be on board with every single Democratic priority, but they are still with Biden far more often than they're against him.