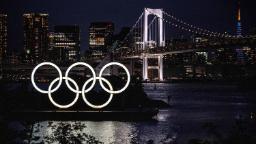 Seemingly like clockwork, the months leading up to an Olympic Games breed crisis headlines, which typically involve things like how the host city isn't ready or how none of the locals actually want the Games to happen and often add some kind of scandal within the International Olympic Committee (IOC) for good measure.
Some problems are ultimately fixable: For the Melbourne Games in 1956, Australia's refusal to lift its tough quarantine rules for equestrian events meant that horses and riders
competed in Stockholm in June
, while the rest of the competition took place in November. Other problems are part and parcel of their global context, like the
international debate
about whether to boycott Berlin in 1936 after the Nazi Party's rise to power.
In more recent history, the 2014 Winter Games in Sochi had some doozies — environmental violations, building a snowboarding venue on
"Red Hill"
(the site of an infamous massacre), a 2013 Russian anti-gay measure that
sparked international outcry
, the imprisonment of
Pussy Riot
for singing a song about Vladimir Putin in a Moscow cathedral — among many others.
And remember Zika? It was the virus many predicted would bring the 2016 Rio Olympics to a close before they even began, considered a threat to athletes and spectators alike.
It wasn't supposed to be this way for Tokyo.
Covid-19, by contrast, is far from extinguished. Much of the world is still figuring out vaccination acquisition and distribution or reeling from the devastation — human, economic, psychological — the virus has wrought. Like all viruses, the coronavirus pays no mind to national boundaries, and does not seem to care that the world could do with a feel-good sporting event right about now, one that brings thousands of athletes from around the world together.
But the time to question whether or not Tokyo should happen has vanished. The Games are going to happen, despite CDC and State Department warnings in the US, and the fact that the host country's vaccination rates continue at a global low.
This reality leaves spectators with a few options regarding the impending Olympic Games.
Yet overt political actions like these are not the only politics to be found. Holding these Games at all is a process shaped entirely by the politics of vaccine access and other resources, including the ability to continue to train throughout the postponement. Covid did not invent the problems, the fractures, that the world has seen. Inequities in health care and economic infrastructures existed long before the virus emerged and will remain in its aftermath. Rather, Covid has put a spotlight on these global imbalances, a spotlight that Tokyo 2020 will continue to enhance.