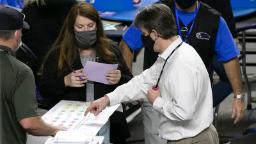 "We want elections to be secure and accessible," state Sen. Bryan Hughes, one of the lead sponsors of the legislation,
told the Texas Tribune
.
But here's the thing: This is a solution in search of a problem.
Because no matter what Hughes or former President Donald Trump say, there is zero evidence of widespread voter fraud in modern American elections. Like, none.
Let's start with the 2020 election, the one that Trump has repeatedly worked to undermine by insisting that it was fraudulent.
Recounts and audits in a variety of states affirmed the original results. There is just no "there" there.
And 2020 isn't an anomaly!
Consider the following:
There's an important point to be made here: An isolated incident of someone voting twice (or trying to) is NOT widespread voter fraud. It is one person acting irresponsibly. What is being alleged by Trump and his backers is that there was a plot across multiple states to steal the election, dumping tens of thousands of votes in at the last minute to hand the election to Joe Biden. And there is simply no evidence of that happening. None. (Side note: You would think that if the plot was as widespread as Trump is alleging, some word of it might have leaked out, right?)
So, yeah. When people tell you who they are and what they are doing believe them — the first time.