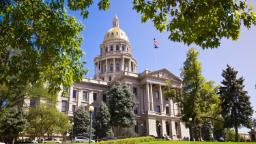 Democratic state lawmakers have passed
three gun measures
that will allow localities to regulate firearms, expand background check requirements for firearm transfers, and create an "Office of Gun Violence Prevention" — sending all three bills to the desk of Colorado Democratic Gov. Jared Polis.
The measures are part of Democrats' push for stricter gun laws to respond to a surge in gun violence in the US and in the wake of more than
200 mass shootings so far this year
alone. Colorado Democrats introduced the trio of bills in late April while continuing to call for federal action.
On Monday, the Colorado state House gave final passage to a bill that would require licensed gun dealers to get approval from the Colorado Bureau of Investigation that a background check is complete before transferring a firearm.
The bill,
House Bill 1298
, requires the bureau to deny approval of a firearm transfer to a person convicted of certain misdemeanor offenses, including third-degree assault, sexual assault, child abuse or a hate crime, within the last five years.
The measure also extends the 30-day deadline to 60 days for the bureau to review and make a final decision in an appeal from an individual denied a firearms transfer following a background check.
The House tweaked the bill last week and passed the amended version Thursday, sending it back to the Senate for final passage that day.
The bill passed the Senate last Tuesday by a party-line vote.
One House Democratic lawmaker, Rep. Donald Valdez, broke with his party to vote against SB 256 and HB 1299, but supported the bill that would expand firearm transfer background check requirements.
Democratic Rep. Judy Amabile, whose district includes Boulder, told CNN she believes the bills will "help with healing," because she had heard from constituents who pushed lawmakers to act in the wake of the shooting.
If SB 256 is enacted, the city of Boulder could reinstate its assault weapons ban, Amabile said.
Republicans had opposed the measures, and instead urged increase funding for mental health services as a solution to gun violence.
CNN has reached out to Polis' office about the latest round of bills sent to his desk.
No Republican lawmakers voted for either of those two bills.
The makeshift short-barreled rifle was used in the Boulder mass shooting, a Justice Department official told CNN on Monday.
This story has been updated with additional reaction.