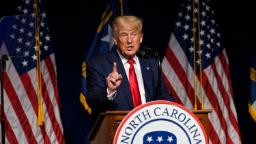 His address to the party faithful was a familiar screed to anyone who tuned in to his 2020 campaign rallies. He attacked President Joe Biden's foreign policy maneuvers, claimed Biden is destroying the economy, insisted that he deserves more credit for the rapid development of Covid-19 vaccines, and argued that the radical left and "cancel culture" are destroying America's freedoms. But it was his continuing disinformation campaign about the November presidential contest that was most disturbing — in part because the past few months have proved that Trump's lies are now accepted as gospel by a majority of Republicans.
At a time when followers of QAnon and online forums supportive of Trump have touted the deadly military coup in Myanmar as a
remedy
that should occur in the United States so Trump can be reinstated,
recent polling
shows that a majority of Republicans believe the 2020 election was stolen despite the fact there is no evidence of widespread voter fraud.
And the former President continued to fan those flames of disinformation on Saturday night, stating that the 2020 election will "go down as the crime of the century." He congratulated Republican state senators in Arizona who have forced a
sham audit
of the 2020 election results from that state's largest county and praised state lawmakers in Pennsylvania and Georgia who are
following suit
by exploring additional recounts and audits of their election results.
"We're not going to have a country — if you don't have election integrity, and if you don't have strong borders, our country can be run like a dictatorship and that's what they'd like to do," Trump said. "They want to silence you. They want to silence your voice. Remember, I'm not the one trying to undermine American democracy. I'm the one that's trying to save it."
Trump as GOP kingmaker
On Saturday night, Trump attempted to present himself as the GOP's kingmaker, endorsing Republican Rep. Ted Budd for the US Senate race, because he said he didn't "want a lot of people running"
Budd, a member of the conservative House Freedom Caucus, won Trump's loyalty in part by being one of the 147 House Republicans who voted against certifying the outcome of the 2020 election on January 6.
Anti-Trump Republicans speak up
While Trump still enjoys a strong grip over the Republican Party and is flirting with the possibility of another run for the White House in 2024, a small but increasingly assertive group of anti-Trump Republican leaders are speaking up to combat his election lies. He also faces some hurdles in getting his message out as social media platforms continue to debate how they should handle his mistruths.
In recognition of Trump's dangerous rhetoric, Facebook announced this week that Trump will remain suspended from that platform until at least January 7, 2023 — two years after his initial suspension — and that it will then assess the circumstances to see if he should be allowed back on.
In a Friday post, the company said that once the two years have passed, it "will look to experts to assess whether the risk to public safety has receded. We will evaluate external factors, including instances of violence, restrictions on peaceful assembly and other markers of civil unrest. If we determine that there is still a serious risk to public safety, we will extend the restriction for a set period of time and continue to re-evaluate until that risk has receded."
Trump called the ruling "an insult to the record-setting 75 (million) people" who voted for him: "They shouldn't be allowed to get away with this censoring and silencing," he said in a statement Friday.
On Saturday night, he mocked Facebook founder Mark Zuckerberg, claiming that he had begged to come to the White House with his wife.
Prominent Republicans have increasingly spoken out about the damage that Trump's election lies are causing, including Rep. Liz Cheney of Wyoming, who was subsequently ousted from her No. 3 post in House Republican leadership, and former House Speaker Paul Ryan of Wisconsin.
Some, like former Virginia Rep. Barbara Comstock, have predicted that Trump will continue to lose vote share as he continues his election farce.
"He's fading as a figure," Comstock told CNN's Pamela Brown on "Newsroom" Saturday before Trump spoke.
"He's not going to be reinstated in August. He lost the election. People need to face-up to this and accept the reality that he was an unpopular candidate and didn't get re-elected," Bolton said Saturday on "Newsroom."
Like Comstock, Bolton said Trump's influence within the GOP is "diminishing" and warned that Republican candidates could face consequences for supporting the former President's disinformation campaign.
"The lies that he tells are damaging not just to the country. They're particularly damaging to Republicans, and I think we have to understand that we will be anathematized by our opponents if we don't make it clear we think the kind of things Trump's been saying are simply crazy," Bolton said.